Sanctuary Rebirth
Inspired by one of the most memorable video games ever created—Diablo II, this keyset brings back the despair once acknowledged by the mechanical keyboard community. Many more kits have been added compared to the original run to make sure you can mount this set to any keyboard you have.

Please fill the Interest Check Form to show interest and share your suggestions :)




︎
Cherry Profile

---
Sculpted 1-1-2-3-4-4 in Cherry profile

︎
PBT Plastic

---
Wont shine the like ABS plastic
︎
All–over Dyesub

---
5-side dye sublimation for brighter legends
︎
Custom Font

---
Using the original Exocet typeface




---
---
Offered Kits
Various Kits are offered to fulfill the demand of the ever–expanding mechanical keyboard layout.




The basic kit, covering most standard OEM mechanical keyboard out there from Pok3r, any TKLs, and even the beloved Leopold 660m. Comes with some extra keys for basic customizing like split backspace, split shift, and swapped capslock–control.


For larger keyboards AKA Full-size, or standalone Numpad. Also required for 1800 / 96 layout.

The first step of a custom keyboard. From WKL to split spacebar, this one covers you. Essential for 1800 / 96 layout.

Good news for ISO users: we got you covered.
Another good news for you: various keys to cover various layout of Europe keyboard.


Support for small keyboards like Planck, Minivan, Preonic, JD40 and the upcoming TKC Candybar.


Got different preference when typing? Get this one.
Modifier keys needed for ErgoDox keyboard, comes with pseudo-blank legend taken from Diablo 2's runes.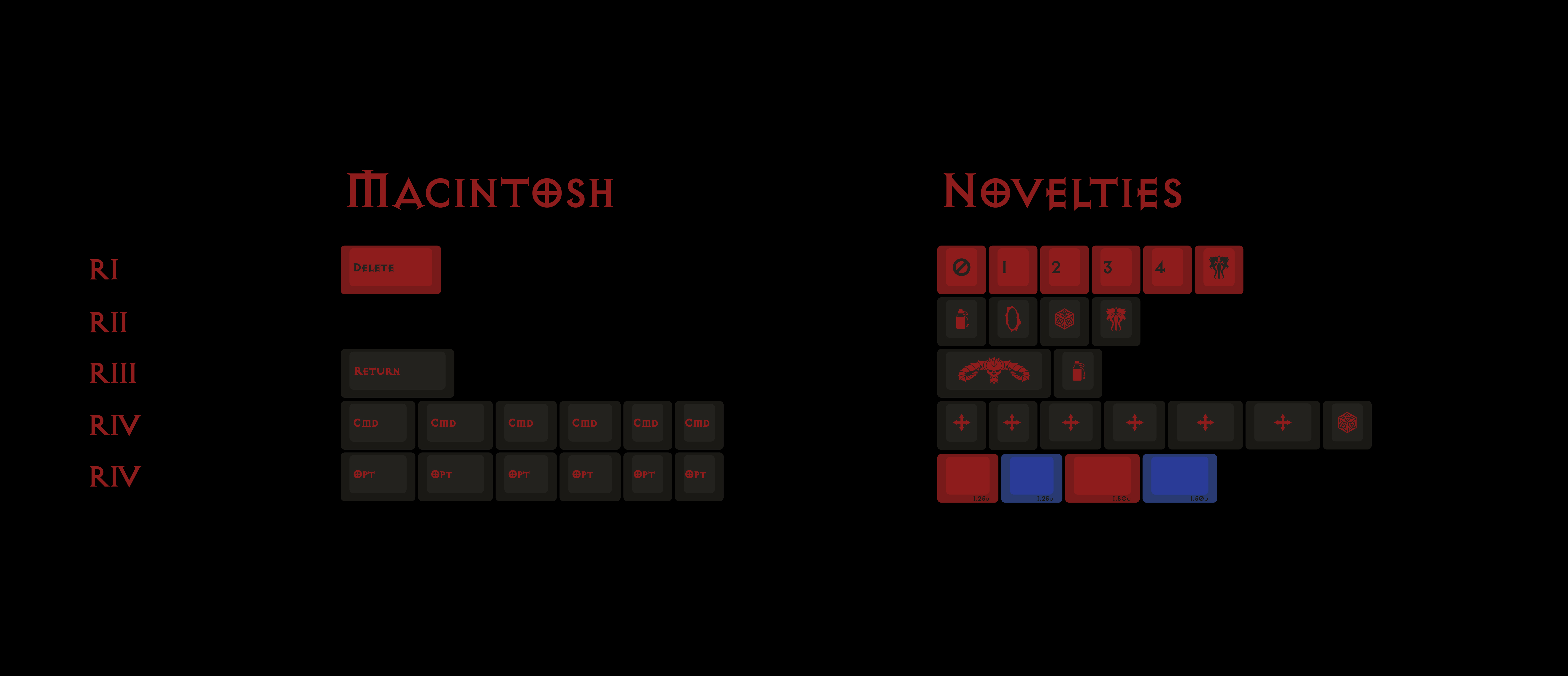 Correct legends for macOS in various sizes.
Embrace the Dark Lord more than the others with these thematic keys.


For those who prefer a uniform color. This will eliminate the red stripe accent.



---
---
Renders
These images are made to give a more proper visual interpretation of the sets when mounted on a keyboard. Be aware that almost all of the aspects of the visual renders are not guaranteed to be the exact same as the actual product.


---
Product Expansion
What is better than having a new theme on your keyboard? A whole new theme for your desk. Deskmat, cable, artisans, wallpaper, and maybe T-shirt. Pray to your Lord for all of them to happen.



"I live, but I am more than I once was."



---
---
---
Current Status
Working on matching colors with manufacturer
---
Technical Specification
Manufacturer:
Keyreative

Material:
PBT plastic

Legend:
All-over dye sublimation print

Profile:
Cherry Profile

Typeface:
Exocet OT Medium
Exocet OT Bold

Colour:
Black – Pantone 426 C
Red – Pantone 7597 C
---
---
Changelog
2018/09/09
︎ Changed Ergodox Kit legend to pseudo-blank by using Diablo 2's rune name.
︎ Updated Thul Io Nef Kit to reflect Ergodox Kit changes.
︎ Updated Google Form to reflect the changes above.
︎ Added Technical Specification section.
2018/09/06
︎ Added Changelog.